Marinas in Gocek
Gocek is a town located on the southwestern coast of Turkey. It is the protected geography and nature that makes Gocek so beautiful and unique. Considered a hidden paradise with clean Mediterranean waters, lush pine forests, and beaches, Gocek is a quiet and safe port with its closed bay. You will find all information about 7 Marinas in Gocek.
The mild winds, calm waters, and unique bays of the Gocek make there an ideal spot for boating and sailing all year round. The town's natural beauty and marinas make it a popular destination for tourists and sailors from all over the world.
One of the most important reasons why people from all over the world want to visit Gocek is the Gocek bays and Islands. There are seven marinas in Gocek, where traditional gulets, sailing, and motor yachts are accommodated in the best way.
1.   D-Marin Göcek
Turkey's safest natural marina with a large maneuver area and deep drafts, D-Marin Gocek nestles on the stretch of Turkiye's western shores known as the Turquoise Coast, acclaimed for its pristine natural beauty. Dalaman Airport is just 22 km and Antalya Airport is 225 km far away.
D-Marin Göcek hosts an impressive array of recreational facilities, restaurants, a beach club, and a spa. D-Marin Gocek is located in an excellent location, a 5-minute walk from the center of Gocek, so it is so close to restaurants, cafes, and bars.
D-Marin Gocek has the opportunity to accommodate yachts and super yachts up to 70 meters, 380 boats at sea, and 150 boats on land.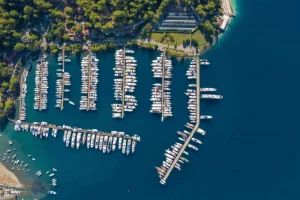 https://www.d-marin.com/tr/marinalar/gocek
Göcek Mh. Camtas Cd. No:12 48310 Göcek Fethiye/Muğla
T: +90 252 645 1520
2.   Skopea Marina
Skopea Marina, established in 1989, is the first private marina of Turkiye. 
Skopea Marina, which is located at the most convenient point of Gocek for anchoring, has a total mooring capacity of 80 and can moor boats up to 110 meters. It can serve mega yachts due to its location. 
Skopea Marina located on the Göcek coast is at the entrance of the Göcek center and is within walking distance of all social facilities on the coastline
Can Restaurant, which has become a brand in Göcek with its tastes and presentation, serves within the marina. Club NEN Skopea is also located in the marina with its swimming pool and cafe&bar.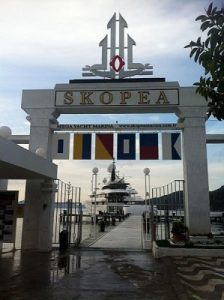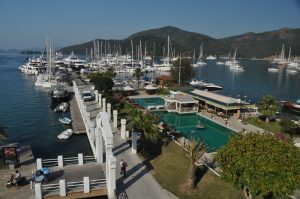 https://www.skopeamarina.com.tr/
Göcek Mahallesi Turgut Özal Cad. No:1 48310 Fethiye / Muğla
T: +90 252 645 17 94
3.   Club Marina
Club Marina, located in Bungus, in Gocek, is the first natural marina of Turkiye, established in 1990. Providing service on a total area of 45.000 m², Club Marina is also Turkiye's most sheltered natural marina due to its location. The marina has all the technical infrastructure and private security you may need, and there are restaurants, cafes, bars, and Turkish baths that will add value to your rest and holiday program.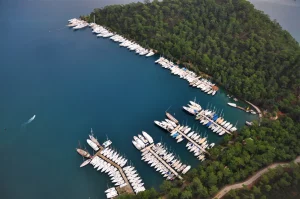 https://www.clubmarina.com.tr/
Göcek Mahallesi Büngüş Sokak No:11 Göcek-Fethiye / Muğla
T:+90 252 645 18 00
4.   Marineturk Village Port Marina
Marineturk Village Port Marina located in Bungus Bay is 5 minutes from the center of Gocek and 20 minutes from Dalaman Airport.
Marineturk Village Port has a parking area for 140 boats at sea and 200 boats on land. It is suitable for the accommodation of boats up to 50 meters in the vault.
Marina provides lifting, launching, and every kind of maintenance service in an area of 30.000 m² with two travelifts (75 tons and 200 tons) for private yachts and charter yachts. Also, they will be playing an important role as logistics support to counter the difficulties associated with short stays of charter yachts.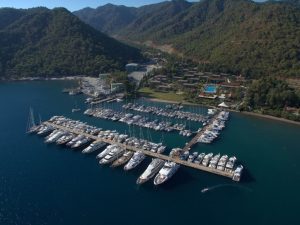 https://www.marinturk.com.tr/tr/marinalarimiz/gocek-village-port
Göcek Mah. Sahil Yolu Cad. 48310 Fethiye – Muğla
T: +90 (216) 999 14 80
5.   Marinturk Göcek Exclusive
Gocek Exclusive is situated in Poruklu Bay, which is 10 minutes away from the center of Gocek, and 20 minutes away from Dalaman International Airport. The only natural beach in Gocek town is located in this bay. The marina is established to accommodate mega yachts and meets the current need for mooring places for these yachts. As the marina is in a secluded bay, the most protected area of Gocek, it is very convenient for mooring. They give service to yachts of 18 meters and above, according to modern management standards, along with floating docks built to the highest standards of comfort and modern technology.
Yacht owners can spend time on their own specially designed covered "floating verandas", and take advantage of "cafe bistro" units on the pontoon throughout their stay in the marina.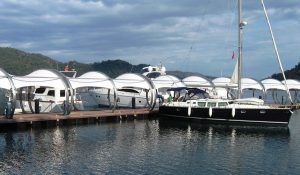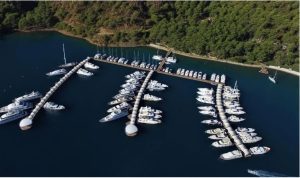 https://www.marinturk.com.tr/tr/marinalarimiz/gocek-exclusive
Poruklu Koyu Göcek 48310 Fethiye – Muğla
T: +90 (216) 999 14 80
6.   Göcek Marina (Muçev)
Gocek Marina is located in the center of Gocek, 18km – 20 minutes from Dalaman International Airport. Göcek Marina allows you to berth your yacht every hour with the support of dockhands and provides electricity and water to your yacht. Use of showers and toilets, transportation and hauling with environment-friendly electric vehicles, fuel supply, black water discharge, and waste/garbage collection services are additional facilities provided.
The marina can serve yachts of 40 – 50 meters. It is also possible to moor superyachts up to 70 meters with a rapid set-up.
With its location at the heart of Göcek, you are just one step away from the delicious tastes of the Mediterranean. Besides restaurants, you can have a good time in cafes and bars. In Göcek bazaar, you can buy natural products from local artisans as well as premium brands. In addition, you can find various chandlery shops to meet your boat's technical needs.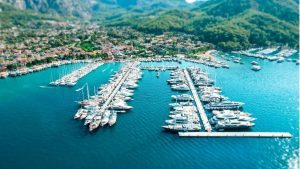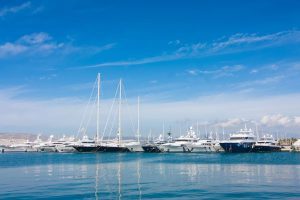 Göcek, Sahil Yolu Cd No:1, 48310 Fethiye-Muğla
T: +90 (252) 645 21 22
7.   PortAzure
Port Azure is the new favorite destination of megayachts looking for a tranquil and private location in the Mediterranean, where they can find ultimate luxury, untouched nature, and extensive services all together.
Opened in 2021, the Port Azure is a Marina and Yacht Club designed exclusively for the luxury, safety, and security of your boat and its crew. It is Turkey's first Megayacht-only port and services yachts up to 150 meters.
Located in Gocek's beautiful and lush Bungus Bay, a naturally protected marina, Port Azure is conveniently located only 23 km away from Dalaman International Airport and at a 3-minute drive to the city center. 24/7 concierge and 24/7 live security CCTV services, Port Azure offers carefully tailored services for all the needs of owners and their crews.
Göcek Mahallesi Büngüş Sokak No: 5/1 Göcek-Fethiye / Muğla
T: +90 252 502 0202
All these marinas in Gocek are perfect to leave your boat all year. If you dream to buy a property in Gocek near by Marinas in Gocek, do not hesitate to contact us.